Hello there!!
I haven't had a "What's New" post in a while, which is odd because I have so much fun doing the research for it! =)
Just an FYI-- posts will be a little sporadic for awhile, but I'll do my best to be present.
First up!
Bare Escentuals High Shine Eyecolor, $16 at Sephora.
What it is:
A vibrantly colored shadow that imparts a mega-watt sheen. The velvety-smooth formula glides on effortlessly for an extra creamy, opaque, foiled effect. A convenient, quick-draw wand allows for easy, on-the-go application.
These babies come in 12 different colors and all are so incredibly pigmented and shiney!! I played with them at Ulta, and that's what I have on in this picture:
Bumble and bumble's Texture Hair (Un)Dressing Creme, $26 at Sephora and salons.
What it is:
This product gives hair a hint of grit, some extra lift, and a tousled, shine-free finish. Its dry moisture finish leaves hair matte but not parched. It's made to mess with perfection and craft one-of-a-kind, freehand looks.
Please just check out this ad:
Hair envy.
Boscia Pore Purifying Black Strips, $15 at Sephora.
What they are:
Each adhesive strip attracts pore-clogging dirt and oil. Its full-contact delivery system applies charcoal powder, an ingredient that draws out impurities and detoxifies the skin. Silica, a natural mineral, controls excess oil while witch hazel extract, a natural astringent, tightens pores. Effective yet gentle, additional botanical ingredients provide a soothing and cooling sensation upon adhesion. Skin is left exceptionally clarified.
I'm telling you-- whoever does the descriptions for Boscia seriously needs a raise-- every time I read the product description I immediately want to go buy it! I might really have to try these.. hmm..
Mary Kay's new Lash Love Mascara, $15 from an Independent Consultant or MaryKay.com.
What it is:
Four times the volume without looking overdone. Flexible sculpted brush separates and coats even hard-to-reach lashes so volume looks instantly magnified with no clumps in sight. Lashes appear fuller, lifted, and multiplied, while looking naturally flawless, soft and healthy. Exclusive Mary Kay Panthenol-Pro Complex and vitamin E help moisturize, strengthen and condition lashes, defending them against breakage and brittleness.
I take it this is a "tube mascara"-- I ordered it, can't wait to try it!
And! My favorite person Heidi Klum is coming out with a fragrance!!!!!
Shine by Heidi Klum, $17-$35, not released as of 6/21/11.
The oriental scent will include notes of pear, pink peppercorn, and mandarin at the top; mimosa absolute sunflower, and lily of the valley at the middle; and Venezuelan tonka bean, vanilla, and musk cosmone at the drydown.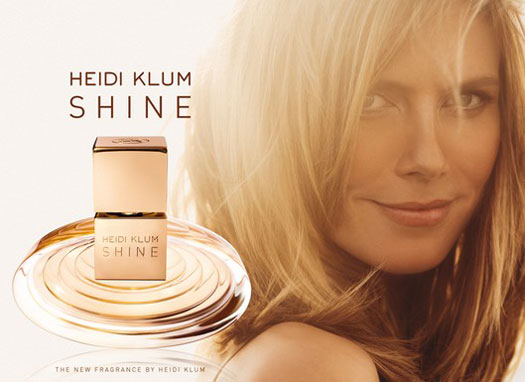 Beautiful!!!
Anything here catching your eye?? Tried any of these yet? Leave me some feedback!! =)
Until Next Time--
~Beauty Maven