So here is the inspiration image for Serena Van Der Woodsen: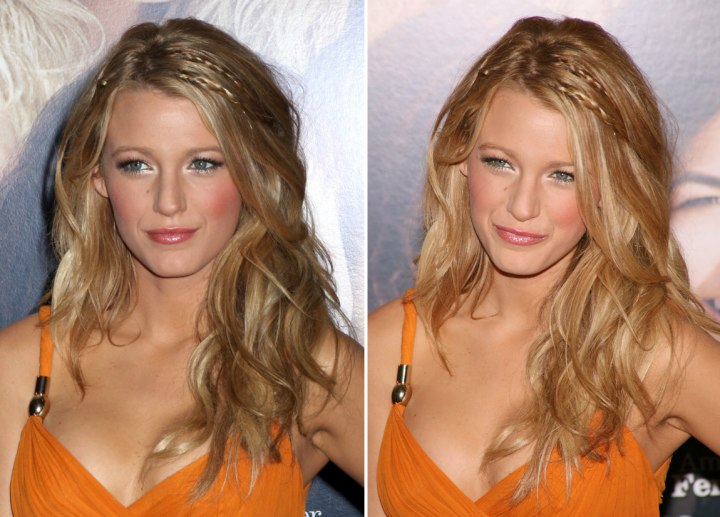 So I tried to do the infamous Blake Lively tousled hair today. And to help me with this?
Herbal Essences Tousle Me Softly brand~ I invested in the shampoo and mousse.
See, I have fine straight hair that is moderately thick, so if I use too much conditioner I can kiss volume and any kind of hold goodbye. Eh, I know. But keeping this in mind, here's what I did:

- Super cleaned my hair of any build-up with Pantene Clarifying Shampoo
- Shampooed with Herbal Essences Tousle Me Softly Shampoo followed by Sunsilk's heat protectant conditioner just on the ends.. cause it's about time for a trim =\

- After brushing and towel-drying hair, I added the Tousle Me Softly mousse—about a tennis ball size—lightly scrunching the ends while my head was flipped over and then adding to the roots.

- I then rough dried my hair, and here's a key! *Do not brush!* afterward!! I know it seems counter-intuitive, but I tried this one day and brushed it and they fell out after only a few hours. Sad day.

- Then, using a ¾" curling iron on the highest setting, I curled my entire head in layers. Here is another key! *Pull on the curl while it's still hot!* Nothing too intense, just softly pull it to make it more of a wave than a Shirley Temple ringlet.

- Finished with Garnier Fructis flexible hold anti-humidity hairspray.

And let me tell you. I took this picture AFTER work. That means it held for more than 8 hours!! (Sorry for the bad quality picture.. I took is with my iPhone because I'm bad about remembering to charge my camera, haha.)

Amazing =)


What do you think? Have you tried the Tousle Me Softly line? Do you have any special tricks to make your hair hold curl? And you curly-haired ladies—enlighten me!! Do you ever try to loosen your curls to waves, and what products/tricks do you use??

Until Next Time~

Beauty Maven