Hello!!
Wednesday is definitely my favorite day. =) Especially with getting tax returns, ahh!! It is SO HARD to save money. Not fair, haha.
First up!
This is an old one, but I've been DYING to find it.....
Sally Hansen's Complete Salon Manicure in Hidden Treasure, $? because it's not in stores anymore! =(
It's SO BEAUTIFUL-- This polish is a topcoat which adds a sort of holographic look. Here is a picture courtesy of
AllLacqueredUp.com
of this color over a green---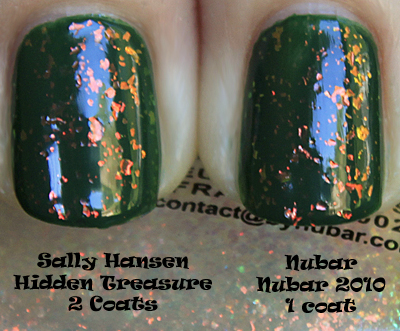 Luckily, as you can see, there is a pretty nice dupe by Nubar-- the only thing is I hate to pay $6 for shipping for a $5 polish. Ugh. Such a pretty topcoat, though!!!!!!!!!!
Next up--- NYX has a couple of new products that are verrrrry intriguing....
This should be exciting for those
Naked Palette
lovers out there---
NYX has a new palette, Nude on Nude-- $25 on their
site
--which other blogs are claiming to be a good Naked Palette wannabe~ I haven't seen one in person so I can't confirm/deny, but as soon as I do I'll share my thoughts! =) Regardless, it is a great deal for a nice neutral palette.
20 shadows and 10 lip glosses~
Dimensions
Another item which caught my eye is NYX's new HD Grinding Blush, $16.50 on their
site
, hopefully at Ulta soon! I'm excited to play with this one because it reminds me of
Smashbox's
powders-- hmmm...
And speaking of Smashbox! They have a new lipstain out~ it's neat in that it has the stain+balm, like Revlon's Just Bitten (review
here
), but the balm is in a matching color.
Limitless Lip Stain and Color Seal Balm, $23 at
Sephora
.
Another I can't wait to play with!
Ok and THIS IS EXCITING----
OPI is coming out with more Shatter colors!!!!!!!!!!!
I CAN'T WAIT!!!!! They will be out at the beginning of May~
Ok I think that's enough excitement for today, haha! Have you seen anything new recently? Leave me some love!
Until next time--
~Beauty Maven