Happy Monday!!
I'm not going to lie-- I had a lot of fun with this one!!
As a reminder, here is the original photo: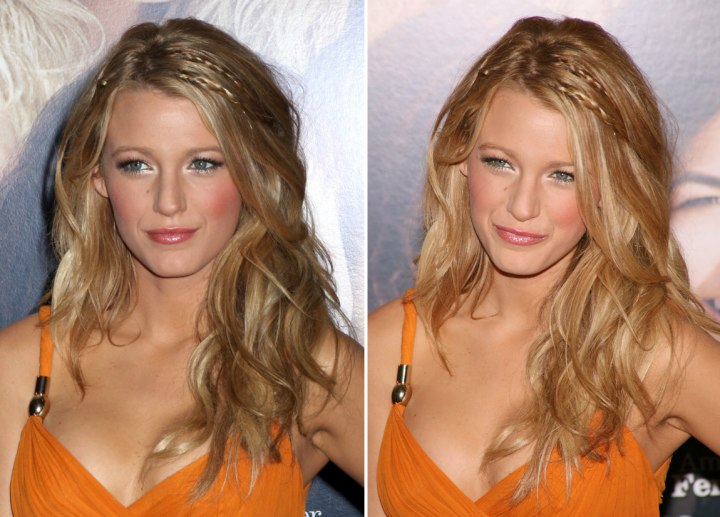 Gorgeous!!!!!!
Here's a layout of the products I used... Sorry the numbers are a little hard to read.
1. MAC Strobe Cream 2. Lancome Tient Idole 3. Maybelline Super Stay Concealer 4. Prestige Kabuki brush 5. Neutrogena Healthy Skin Blends bronzer 6. Clinique High Impact Curling Mascara (for bottom lashes) 7. L'oreal Voluminous Mascara 8. Lancome pallet-- I used the blush from this pallet, both colors mixed together 9. Another Lancome freebie-- Juicy Tubes in Hallucination 10. Maybelline Ultra Brow Brush-On color 11. Maybelline Eye Stuido Color Plush Silk Eyeshadow in Taupe Temptress 12. MAC Eyeshadow in Nylon 13. Covergirl eyeshadow brush 14. Neutrogena eyeliner in brushed pewter
15. Maybelline Color Sensational Lipgloss in
Raspberry Sorbet
Whew! That's a lot, haha!!
Here are my pics:

The *key* to this look is the inner-V shimmer-- I used the MAC eyeshadow in Nylon for this. It's the perfect color!! Just a hint of gold to really bring out the gold flecks in my eyes. Also, she has a lot of color everywhere (lips, cheeks, etc.), but the second *key* is flawless skin. Mixing the MAC Strobe Liquid with your foundation will do this nicely! (I love this lotion-- review soon to come!)
If you have any questions, just ask!!
Until next time--
Beauty Maven