Hey all!
Sorry for the absence-- it was nice to have a break, but I have missed these posts! =)
For today we have MAC's Haute and Naughty mascara, $18 on
MAC's website
and counters.
What it claims:
A two-in-one mascara that lets you choose if you want lashes to be naturally defined, or instantly combed and loaded for full-on drama. Easy to use dual-wiper system allows the lightweight formula to go on either way. One wiper refines the application for a clean sweep, while the other loads the lashes for greater impact.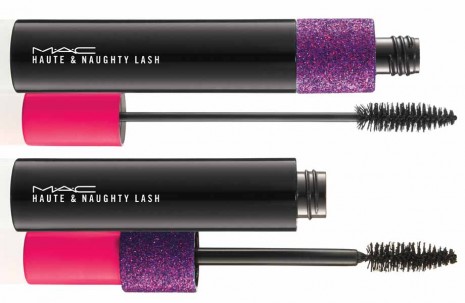 Which looks remarkably like this.... hmmmmm.... MAC came first, btw. ;)
Imitation is the highest form of flattery?
It's not exactly new, but I wanted to post a review anyhow!
Essentially what this mascara does it have the wand able to be removed with two different "wipers"-- the diameter of the hole the wand comes out of-- which changes how much product is on the brush. More product generally equals more volume, and less means less volume aka lengthening. Make sense? =) It's the same wand, just pulled through a different wiper depending on where you unscrew the top.
With this mascara, the Pink wand is the lesser product one, and the Purple is more dramatic.
Pictures!
Bare lashes
Bare lashes on left, Pink wand alone on right.
Pink wand alone
Bare lashes on left, Purple wand layered OVER Pink wand on right
Purple wand alone on left, Purple wand layered OVER Pink wand on right
Overall I REALLY like this mascara! The ONLY complaint I have is that the Purple wand can have a bit too much product on it-- I find myself having to wipe some back into the tube, which I hope doesn't dry it out faster. =/
The Pink wand is a good natural look-- I prefer the Purple side, but I like a more dramatic lash. It is nice to have the option, and to only have to pack 1 mascara for day AND night!
I noticed that layering them doesn't really vary from using the Purple alone. In order to be a true lengthening mascara, it would need fibers to build the length onto you lashes~ since both wands use the same formula, it makes sense to not have that type.. you can't exactly pile on a fiber formula and have it look good, haha.
It's more expensive than the typical MAC mascara ($18 vs. $14) but if you think of it as a 2-in-1 than it's really not that bad. And actually, for a department store brand, $18 is nice, haha!

What do you think? Have you tried this? Think you will? What about the Rimmel brand one? I'm so curious!

Until Next Time--
~Beauty Maven